World of Warcraft Week on the Next Chop Model - Part 2
Hard-hitting World of Warcraft week here on the Next Chop Model. Thighra just upped the ante and the stakes are higher. Us WoW Gold Pig peeps are feelin' the excitement and electricity from the final four.
That, and the static electricity in our office carpets are reaching a fatal level. Let's get it on!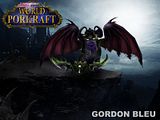 YOU ARE NOT PREPARED!
That was what greeted us when we showed up to Gordon Bleu's photoshoot without any food in hand. We were promptly hit by
Eye Blasts
and
Flame Bursts
.
For a moment, we were sure that the group was going to wipe - until we realized out that theonly thing that the
Warglaives of Azzinoth
that Gordon was carrying were pork chops.
We were not prepared.
Labels: free wow gold, next chop model, wow gold pig