World of Warcraft Week on the Next Chop Model - Part 1
It isn't a WoW Gold Pig contest if it doesn't have our beloved game, World of Warcraft, and Next Chop Model's host Thighra Shanks knows how to bring the love in this week's challenge.
Our four remaining porkers, Cassie, Peter, Salami and Gordon were left a bit somber after the elimination yesterday. They were downtrodden at how tough the Next Chop Model competition could be. It seemed like nothing would cheer them up.
One tub of chocolate chip and fudge brownie ice cream and five layers of deep fried bacon covered bacon lasagna wraps later and they were as enthusiastic as sharks in a feeding frenzy. Onto the mailbox then!
Thighra Mail!
Dahlins! With Davin and Chize gone, I guess can call you the Fab Four. And rightly so, because you brought the goods and made momma Thighra proud!

Now for this week's challenge - why don't we step out of the streets and into the real world... the real World of Warcraft, that is! Sharpen your swords, piggies. It's time to get your WoW on!

World of Warcraft week? World of Warcraft week!? OH YEAH!
The chop models were given $100 each and 4 hours to find and create a WoW-themed outfit. Can these piggies strut their stuff in Azeroth?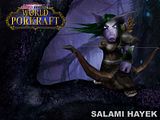 Deep in the forests of Teldrassil, the Night Elf Hunter Salami Hayek prowls the night and has her sights on anything that moves. Here naturally long ears lend authenticity to this elvish display, and even her outfit looks
au naturelle
like the tree-loving elves in WoW.
Now if only she was as slim. But she still is a convincing night elf, albeit one that has been gorged on tons of
Delicious Chocolate Cake
.
---
It's World of Warcraft week! Be sure to answer the Chop Model Trivia and take home 2,000
WoW Gold
everyday. It's freakin' easy!
Labels: free wow gold, next chop model, wow gold pig