WoW Gold Pig's Next Chop Model - Week 2, Part 3
Pigs and paint. A good combination. I mean, if you're high on paint fumes and have a pew porkers handy (no worries, PETA. Those are pig-safe paints. They're made out of magic, or somethin').
Thighra started the week off with a tough Street Art challenge. Cassie, Gordon, Chize and Davin got off to a fierce start with their street painting skills.
You could say that the chop models are painting the town
pink
. What do Peter Porker and Salami Hayek have up their artistic sleeves?
Bring it on, piglets!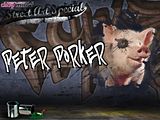 True to his namesake, Peter Porker is taking the 'Spiderman 3-emo' approch. Dark, brooding and roasted to perfection, this lil' piggie could probably make a Crow 5: The Lone Pig casting call.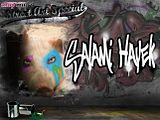 Salami Hayek always had a way with her eyes. Take straight out of a mardi gras, Salami moves and grooves alongwith her bright pastels and back hair. Just don't tell her that she also has the same color scheme as the Macho Man Randy Savage OOOH YEAAAH.
And that's it for the week. The votes are in (Thighra's, actually) and next week sees another two piggies leaving the chop model mansion. Who will survive? Who will win the chop modelling contract? Who ate the whole meatloaf? We can only speculate.
As always, we're giving away 2,000
WoW Gold
to 5 lucky winners everyday on the blog,
Twitter
and
Facebook
. Just answer our Chop Model Trivia and you could get your hands on two thousand virtual smackeroos in the World of Warcraft.
Labels: free wow gold, next chop model, wow gold pig