WoW gold Pig's Next Chop Model - Week 2 Part 1
Craving for WoW Gold yet? You'd better keep your eyes peeled and answer today's trivia! Our Next Chop Models are now ready for their next challege and lead into a back alley.
A back alley? Now what could Thighra want in a back alley...
Thighra Mail!


Listen up, porkers! The world of chop modeling is not a cake walk, and I bet you all wish it was. It's an unforgiving place where only the best survive. Just like the mean streets.

And that's where you'll prove to the world just how tough you really are - and I'm not talking about jerky! Get creative, piglets. It's time for the street art challenge!

-Thighra Shanks

A street art challenge? Me likey!
Each contest is given a few cans of paint, a blank wall and equipped only with their porcine creativity (did you know that pigs have some of the biggest brains in the animal kingdom?). I've always wondered how pigs would do as artists. I mean, yeah, they'd probably have difficulty painting and stuff. Maybe it's their upbringing or allergies to paint.
It doesn't help that they only have hooves. Let's take a look at the first two to finish then (click on thumbnails to enlarge):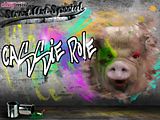 Awright, let's get this started. Cassie Role really worked it with her street at. It looks like she took an 80's/Jamaican color scheme with the neon colors and the green/yellow face paint. Keep on jammin'!
Look at those mad skillz! The savory Chize Berger really got down and dirty with this awesome semi-3D street art that goes well with her purple and pink ensemble. We caught her struggling to stay awake - she claims to have stayed up doing Quarter Pounder pushups.
Win 2000 WoW Gold! Seriously, dude. If you haven't answered the Chop Model Trivia questions yet, you're missing out on an instant 2000 WoW Gold. Fill in your answer and start winning today.
Labels: next chop model, wow gold pig