WoW Gold Pig's Next Chop Model - Week 1
Welcome, stranger. The
WoW Gold Pig
Next Chop Model
aspirants have been bound, gagged, basted, marinated and brought to a place called 'The Middle of Nowhere.'
The pressured piggies now stand in front of a huge and dark mansion with windows that look like eyes and doors that might lead into hell itself. An old, dilapidated mailbox creaks open and inside was...
Thighra Mail!


Hey Piggies! Welcome to the Next Chop Model. I expect you all to work it like it's gonna kill you because you're in for a challenge. A challenge for the dead, dahlins!

With Halloween and Dia de los Muertos just missing us by a couple of days, this week's theme is about ghosts, ghouls, spirits all thing scary. Bring on the fierceness, chop models!

- Thighra Shanks

And with that, week one of the Next Chop Model begins...
hauntingly
.
The stage is set, the pigs are oiled and raring to go. The chop models went to work and got dressed up for this particularly spooky occasion. The piggies were given time to scavenge and work with what they could find in the haunted mansion. This is a test of their creativity and ingenuity in the midst of a hostile environment.
Bring it on, chop models!
(Click on the thumbnails for the full size picture)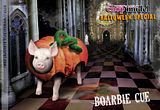 First up is
Boarbie Cue
, a country girl at heart, rump and choice cuts (seasoned to perfection). She's wearing an Oscar de la Groucha pumpkin couture which works well with her round figure. Just seeing her makes you think of one thing - pork and pumpkin stew. BRB, getting a bowl and spoon.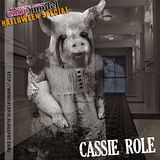 Zoiks!
Cassie Role
had us goin' for a minute there! Like a tortured soul, Cassie's blending in with the haunted mansion well. A little
too
well, if you ask me. When asked what the hard part was with her costume, she said "It's kinda hard to, y'know, eat and stuff when you're incorporeal and all. Everything just goes through you like you're a ghost!"
One of our male chop models,
Chize Burger
, was having some tummy problems when the challenge started (must be all those quarter pounders he's been downing). A few bumps and crashes were heard in the bathroom later and out he came looking like the ancient porcine pharaoh,
Tutankhamburgar
.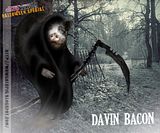 Like a shadow in the night, suave chop model
Davin Bacon
dons death's mantle and slices, dices and sautees the competition with his convincing rendition of the grim reaper. Although by the look of things (and the boxes of honey-raised donuts he's had during the shoot), maybe we should call him the 'Kreme Reaper.'
Four piggies strut their stuff in costume; what will the other four do to compete? Find out tomorrow!
---
YO! Answer the trivia above and stand a chance to win
2,000 WoW Gold
! For real. We're giving away 2,000 gold to 5 lucky winners on the blog every single piggie day. Answer the form on the top right of the page like right now dude!
Wanna win more? Check out our
Twitter
and
Facebook
- we're also giving away 2,000 gold there!
Labels: day of the dead, halloween, next chop model